About Emily
In this section of severeme.info you can read about the author of "Severe ME/CFS: A Guide to Living" as well as her own comments on life with very severe ME and her book.
Emily Rose Collingridge was born in London in 1981.  A passionate and feisty child, she was eager and determined to enjoy everything in life.  When she contracted mumps in 1987 she and her family had no idea just how much the future was going to test her strength of character.
For nine years she suffered a huge array of bewildering and worrying symptoms for which doctors could find no cause.  Ignorance about ME and poor advice meant that she spent many years struggling to attend school and trying to keep up with her peers when it was far beyond her capabilities.  In 1996 she finally received a diagnosis, but by this time was completely dependent on a wheelchair.  Thankfully she discovered the Association of Young People with ME (known as AYME), a charity then in its infancy.  Despite now being severely affected and almost entirely housebound, she threw herself into work as the organisation's PR and Fundraising Manager.  During this time she spoke to many families who were affected by ME and learnt a great deal about the condition.  Her work was recognised nationally by the Whitbread Volunteer Action Awards.
At the age of 21 Emily left AYME to become a project adviser for several other charities, including Home-Start, a leading family support organisation.  In 2005 she was forced to stop working due to an extreme deterioration in her health.  She continued to decline for nearly two years and went through some extremely traumatic experiences before turning the corner in the Autumn of 2007.  Sadly Emily's health deteriorated again in 2010 and she died in hospital on 18th March 2012.
Emily wrote …
It is hard to put into words what it felt like to be plunged into the world of very severe ME.  The shock, the fear, the pain – physical and emotional – it was totally overwhelming.  The endless extreme symptoms and countless practical problems I faced all seemed insurmountable.  How could I possibly get through this?  How could I possibly cope with this suffering day after day?  I could sense that my family and doctors felt the same.  We were helpless in the face of a poorly understood and devastating illness.  Nobody could give us any answers.  Then rare complications meant that I came close to losing my life.  If I was to survive we were going to have to come up with our own answers.  And with the support of friends who had been there and charities such as AYME as well as a lot of trial and error that is exactly what we did.  Somehow life seemed to get a little better and then a little more and then a little more.  Eventually people were asking me how I had coped with this, that or the other.  They were asking for the answers that we had been forced to learn the hard way.  I soon realised that I had something valuable to offer those struggling to live with severe ME.  Whilst it seemed rather crazy to write a book when still so ill myself, I knew deep down that it was what I wanted to do.  It is a cliché, but, if something positive could come from my traumatic experiences, it would all be easier bear.
The first draft of "Severe ME/CFS: A Guide to Living" was based on my own experiences, the experiences of friends and the advice of professionals I had been treated by over the years.  But I knew that this was not enough if the book were to help everyone with severe ME.  People experience the illness differently; they have different problems and different coping methods are needed.  I was determined that my book be as comprehensive as possible, a definitive reference document for all those who had to live with severe ME – whether they were sick themselves or personally or professionally involved with someone with the illness.  This meant consulting far more people.  It was nearly two years before I felt confident that my book was ready to be published.  They were a difficult two years.  And not just because my health was poor and put me in hospital twice in that time.  But because I felt such an enormous sense of responsibility to "get it right".  The preliminary reviews seem to indicate that I have, which is a tremendous relief.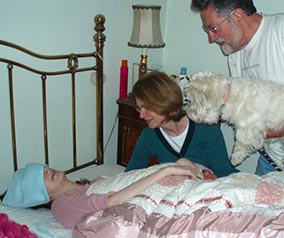 My big hope is that the book will make the lives of those affected by severe ME easier.  I can't take the illness away – no-one can do that – but through sharing what I have learnt about it I hope perhaps I can take just a little of the suffering away.  I felt it was important to write something that was not just for those who have severe ME themselves or who are caring for someone with severe ME, but also for the family members, friends and professionals involved.  People struggle to understand severe ME and to know what help that they can offer to someone suffering from it.  I hope that this book will bring everyone together to help people with severe ME to achieve the best quality of life possible.  Different readers will, I imagine, take different things from the book.  But whatever the reader is struggling with, I hope that there will be something in the pages of this book that could make a difference.
When I asked a former patient what she felt the cover should show, she said a lantern.  I asked why; "because the book is like a guiding light in the darkness".  It is my most fervent wish that this light reaches as many people as possible.